APERITIVOS Y ENSALADAS


---
Queso Fundido con Chorizo Verde 6.5
Melted Queso Chihuahua & Asadero, spinach, house-made chorizo verde with soft corn tortillas & salsa fresca
Minguichi 6.5
Rich tart dip made of queso fresco, tomatillos, rajas, crema & tequila with tostadas & salsa fresca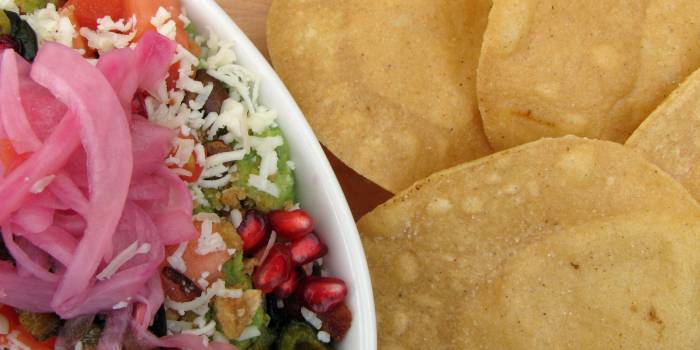 Guacamole 7 / 10 Loaded
Customize your guacamole for .50 each topping or get it LOADED with crunchy tostadas & salsa fresca

Toppings:
Chicharrones
Diced Tomato
Pickled Onion
Pomegranate Seeds
Queso Cotija
Rajas - Roasted Poblanos
Pepitas - Pumpkin Seeds
Tocino - Bacon
Trio De Salsa 6
Choose three fresh salsas with tostadas
Salsa Fresca - Pureed, tomato, onion, jalapeno, cilantro, lime
Salsa Verde - Pureed, tomatillo, serrano, onion, lime, cilantro
Tomatillo Avocado - Creamy, pureed, salsa verde with avocado
Salsa Negra - Dark, smoky, spicy, chipotle, garlic

Chile de Árbol - Smooth, dried árbol chile, garlic

Salsa Mexicana - Chopped, tomato, onion, jalapeño, cilantro, lime
Roasted Habanero - Pureed, charred tomato, onion, orange, habanero

For a lighter snack, choose one salsa for $2.50
Tostadas con Pescada Ahumada 8
Two crunchy corn tostadas, layered with refried black bean, achiote smoked Gulf fish, cabbage slaw & cilantro lime mayonesa
Ceviche 8
Fresh Gulf fish, tomato, tomatillo, jalapeño, avocado, lime, cilantro with tostadas
Ensalada Pico 6
Jicama, orange, grapefruit, radish, pickled onion & serrano chiles in a citrus agave vinaigrette
Lump crabmeat add $5
Cebollitas 3
Grilled green onions, olive oil, lime
Diosa Verde 9
Romaine, tomatoes, red onion, pickled jalapenos, pomegranate seeds, Mexican Green Goddess dressing & cilantro. Ask about adding meat or seafood for $4. Lump crabmeat add $5
Entradas


---
Cochinita Pibil de Costeños 16
St Louis ribs slow-cooked in banana leaves, achiote-spice rub, black beans, pickled onions
Pescado con Mojo de Ajo 16
Sauteed Gulf fish, olive oil, roasted garlic, lime, chile spiked Calabaza
Enchilada de Pato con Mole Negro 18
Roasted duck enchiladas, black mole, refried pinto beans, rice
Pollo con Mole Amarillo 16
Roasted half chicken, yellow mole, potatoes, chayote, green beans
ANTOJITOS
---
Tacos 12
Choose THREE taco preparations below, with refried pinto beans & rice.
Carne Asada - Chopped beef, Cotija, onions, cilantro, salsa verde (Creekstone Farms)
Pollo Deshebrado - Shredded chicken, pickled carrots, salsa Mexicana (Springer Mountain Farms)
Carnitas - Crispy friend pork, tomatillo avocado salsa, onions, cilantro
Lengua - Beef tongue, grilled onions, cilantro, chile de árbol salsa (Creekstone Farms)
Pescada o Camarones - Ensanada-style fried fish or shrimp (Grilled optional) with cabbage, spicy mayonesa, flour tortilla. Add $1 per taco
Nopales - Cactus, garlic, tomatoes, onions, epazote, Cotija, salsa fresca
Chorizo - House-made ground pork sausage, queso fresco, onions, cilantro
Cabrito - Two Run Farm Barbacoa style Goat, Guajillo chili spice rub, onion, cilantro, roasted habanero salsa. Add $1 per taco (When available)
Los Tres Hermanos Burrito 9
The Brother's Three - Carnitas, Carne Asada & Pollo Deshebrado, pinto beans, rice, queso Chihuahua & Asadero, crema, salsa fresca, guacamole, onions, cilantro
El Mision Burrito 8
Choose one burrito filling below, pinto beans, rice queso Chihuahua & Asadero, crema, salsa fresca, guacamole, onions, cilantro
Choice of Fillings
Carne Asada - Marinated, grilled, chopped beef
Pollo Deshebrado - Braised, shredded chicken
Carnitas - Slow cooked, fried pork
Lengua - Braised beef tongue
Pescada - Ensanada-style fried fish. Add $2 (Grilled optional)
Camarones - Ensanada-style fried shrimp. Add $2 (Grilled optional)
Nopales - Sauteed cactus, garlic, tomato, epazote
Chorizo - House-made ground pork sausage, chiles, spices
Cabrito - Barbacoa style Goat, Guajillo chili spice rub. Add $2 (When available)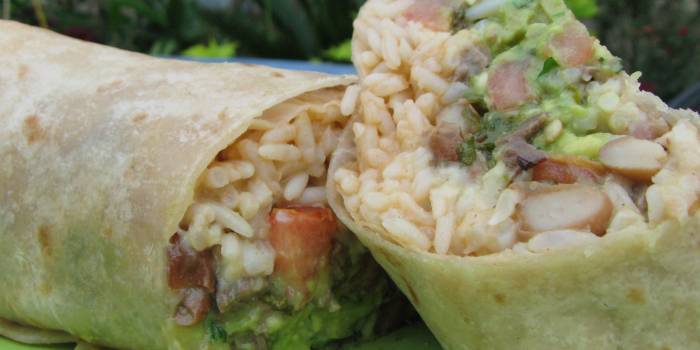 Postres


---
Paletas 2.75
Chef's selection of fresh fruit frozen popsicles
Capirotada 6
Mexican bread pudding, tamarind toffee sauce, sweet orange crema, pistachio brittle, pomegranate seeds, blackberry sauce
Churros con Chocolate 6
Negra Modelo churros, vanilla chamomile sugar, spicy chocolate cremeux, house-made cajeta
Pastel de Ganache de Chocolate 6
Flourless chocolate cake, lime curd, Grand Marnier blueberries, corn meal streussel
Banana Rum Pudding 6
Vanilla rum pudding, banana, caramel, blackberry cream, fried peanuts, spicy candied bacon